Rotary Scholar
Upon graduating from Claremont McKenna College with a double major in Economics and Fine Arts Cum Laude, Chris was awarded the Rotary Graduate Scholarship, an award with which he received a graduate degree from the University of Canterbury in New Zealand.
Media Executive, Social Entrepreneur
Chris' company Noble Media and its Reader Magazine has brought the ideas and writing of Nobel Prize-winning writers and institutions and important, marginalized authors into 390,000 Californians' homes with a recognized, positive social impact.
Under Chris' leadership, Noble Media has covered all the major national, state and local policy issues including climate change, economic resiliency, local community development, and US foreign policy.
Samir Husni, a top media analyst said, "Through social responsibility and a genuine desire to change people's lives, The Reader has made its mark in the world of magazines and magazine media."
Noble Media received a 4-Star GIIRS impact rating, B-Certification and was a semi-finalist for the Patrick Soon-Shiong Innovation award.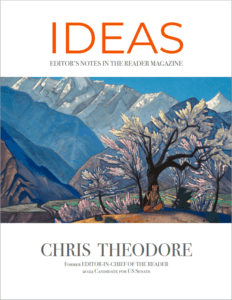 Can't get enough?  Learn more about Chris' ideas on the major social, ecological, economic and political issues, download Ideas, a compilation of Editor's Notes written by Chris, HERE.